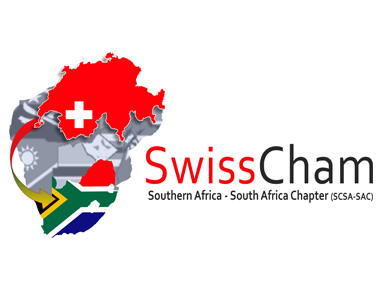 SWISS CHAMBERS
T he SCSA SAC, SwissCham Southern Africa, the parent chamber in Switzerland, was founded in 2003 as a merger between the Swiss-South African Association (foundedin1956) and the Chamber Switzerland South Africa (founded in1996). Today SwissCham Southern Africa (SCSA) has over 180 Swiss and South African members.

SwissCham Southern Africa is an apolitical non-profit organization, which seeks to contribute to the expansion of economic, commercial and cultural relations between Switzerland and Southern Africa.

SCSA also functions as the South African pillar of the bilateral Chamber of Commerce and Industry. SCSA-SAC is the official Chapter for the whole of South Africa. SCSA-SAC, SwissCham Southern Africa –

South Africa Chapter was formed on the occasion of an official visit by Switzerland's Federal Councillor (Minister) of Economic Affairs, H.E. Doris Leuthard, in 2007. The Chamber formally opened its doors at an inaugural meeting in Johannesburg in April 2008.

SwissCham is an independent bilateral, non-political, subscription based non-profit organisation without financial assistance from government, dedicated to strengthening and expanding trade relations between Switzerland and South Africa.

We promote and advance not only business friendly environment, but the interests and views of Swiss business in South Africa. For our membership we conduct social and business events with leading speakers from industry, government and opinion leaders as an excellent networking and communication platform, where they not only can socialise, but develop business orientated relationships.

The Chamber also actively voices concerns for and on behalf of our Members or the Swiss Business Community in general, we issue press statements (e.g. on the Protection of State Information Bill ) and comment on draft policies, bills, legislation that are or have been published for comment (e.g. The National Policy on Intellectual Property 2013, the Draft Promotion and Protection of Investment Bill 2013, the new Immigration Legislation ) etc. We conduct Workshops, as we for instance did on the new Codes in terms of B-BBEE. SCSA-SAC is a cooperation partner to the Swiss Business Hub at the Embassy in Pretoria, as well as to Switzerland Global Enterprise (S-GE).


HEAD OFFICE:
+27 11 791 1602 | info@lfpgroup.co.za
Cnr Aimee & Rabie Road,
Fontainebleau, Randburg, 2194
LFP OXFORD CAMPUS:

+27 11 791 1602 | info@lfpgroup.co.za
96 Oxford Street,
Ferndale Randburg, 2194
LFP BOB CAMPUS:

+27 11 791 1602 | info@lfpgroup.co.za
Cnr Bond Street & Bram Fischer Rd,
Randburg, 2194
LFP CPT CAMPUS:

+27 21 201 1134 | info@lfpgroup.co.za
Sunbel Building, 6th floor,
3 Old Paarl Road, Bellville,
Cape Town, 7530
LFP KZN CAMPUS:

+27 031 941 1468 | info@lfpgroup.co.za
Langford Rd, Westville, Durban,
KZN, 3629