ABOUT THE LFP GROUP
A TURNKEY SERVICE PORTFOLIO
SHIFTING MINDSETS, CHANGING THE CONVERSATION, CREATING CHANGE
A GENTS OF TRANSFORMATION: You have heard this term countless times, but what does it mean?

At LFP Group, we strive to change perceptions and evoke positive conversations around BEE compliance in South Africa. Rather than viewing BEE compliance as a 'tick box exercise', we see it as the much-needed catalyst for change and growth in our country.

By incorporating BEE into your company's big picture thinking, you reap financial benefits whilst making a change in the lives of those who need it most.

Transformation is proudly to brought to you by SA's Agents of Transformation, LFP.
LFP TRAINING:
T
hanks to unmatched methodology, LFP Training delivers industry-first SETA accredited learnership programs at our world-class training facilities in Gauteng, Western Cape and KwaZulu-Natal for unemployed, able bodied and disabled learners. Due to demand, we have expanded and now have satellite offices in Bloemfontein, Port Elizabeth, East London, Mpumalanga and Limpopo.
PERMANENT PLACEMENTS:
A
n in-house recruiting service to attract top talent for your business. Our attentive team of trained experts' specialises in recruiting disabled individuals for permanent positions. Predominantly recruits for roles in the fields of administration, healthcare, technology, retail and start-up hiring.
YES PROGRAMME MANAGEMENT IMPLEMENTATION:
I
n support of the Youth Empowerment Services (YES) Programme, LFP acknowledges the critical role that the youths play in shaping our economy and we are dedicated to changing their current reality.
Driven by innovation, experienced and best practice methodologies, we strive to create an inclusive South Africa and look to provide more opportunities for our youths through our compliance solutions.
BEE-CONNEX:
G
ain instant access to the largest network of B-BBEE experts in the country, matched to your requirements at the touch of a button on BEE-Connex. Let this first-of-a-kind app break down the jargon and cut down the search time to bring you exactly what you need. Visit www.bee-connex.co.za for more information.
BEE VERIFICATION FACILITATION:
D
esigned to complement the implementation of your BEE initiatives, we offer accredited verification facilitation services for Generic Companies based on the B-BBEE Codes of Good Practice. In addition, verifications are applicable to any of the gazetted Sector Codes. LFP manages your entire verification compliance exercise – accurately and independently. We work with your business to seamlessly deliver on all required documentation.
BEE MANAGEMENT TOOL:
C
alculate your BEE points with SA's first free BEE Management Tool. This user-friendly service allows you to analyse your company's scorecard, calculate your current points and plan your company's BEE requirements going forward. Log onto the BEE Management Tool by visiting lfpgroup.co.za/bee-management-tool.
OUTSOURCED PROCUREMENT:
S
ophisticated software has been developed to efficiently manage and analyse your procurement data whilst reducing the need for manual administration. Maximise your investment with an outsourced, comprehensive solution. Pin point, track, plan and maximise the suppliers that your company makes use of. Work alongside our dedicated team of experts to strategically enhance your spend and bolster your recognition!
B-BBEE CONSULTING:
D
edicated to the industry, the LFP Group's national team of trained and knowledgeable B-BBEE consultants are here to walk the journey with you. We recognise that the key factors to successful B-BBEE implementation lie in the provision, strategy, planning and preparation before the relentless verification process.
LFP, PROUD MAJOR SPONSOR OF MISS SOUTH AFRICA 2019:
LFP PROUD ASSOCIATE SPONSOR:
B
acking some of South Africa's most-loved rugby teams, the LFP Group is a proud sponsor of the Cell C Sharks, DHL Stormers and Vodacom Blue Bulls.
T
he LFP Group is a Level 1 B-BBEE supplier and is recognised as one of Impumemelo's Top Empowered Companies in South Africa.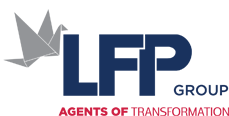 HEAD OFFICE:
+27 11 791 1602 | info@lfpgroup.co.za
Cnr Aimee & Rabie Road,
Fontainebleau, Randburg, 2194
LFP OXFORD CAMPUS:

+27 11 791 1602 | info@lfpgroup.co.za
96 Oxford Street,
Ferndale Randburg, 2194
LFP BOB CAMPUS:

+27 11 791 1602 | info@lfpgroup.co.za
Cnr Bond Street & Bram Fischer Rd,
Randburg, 2194
LFP CPT CAMPUS:

+27 21 201 1134 | info@lfpgroup.co.za
Sunbel Building, 6th floor,
3 Old Paarl Road, Bellville,
Cape Town, 7530
LFP KZN CAMPUS:
+27 31 941 1468 | info@lfpgroup.co.za
1 Langford Road, Westville,
Durban, KZN, 3629